Internal Medicine Provider Linda Coleman, M.D.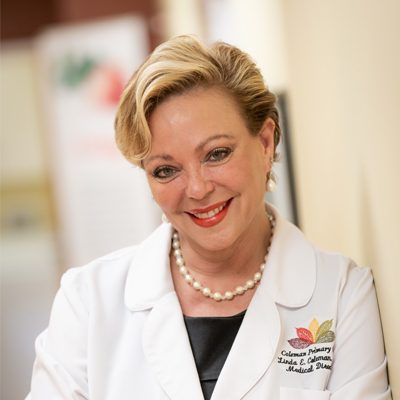 Linda Coleman, MD, has been in practice for over 25 years. She cares for patients at Alternative Wellness Clinic in Sterling, Virginia. Dr. Coleman is particularly interested in all aspects of women's health, as well as hypertension and diabetes. She employs a comprehensive care model that considers the total patient and takes care to know the events in a patient's life that contribute to their health. 
Dr. Coleman began her education at Indiana University in Bloomington, where she received her Bachelor of Arts.
She then attended Ohio State University School of Medicine in Columbus, from which she graduated in 1984 with her medical degree.
In her decades of practice, Dr. Coleman has continuously found innovative ways to approach health and wellness for her patients, and while other doctors promote warehouse medicine, she chooses to implement a personal touch that sets her apart. Her ability to be innovative, and care about each patient that comes through her doors has afforded her the Patients' Choice Award, in addition to being voted one of America's Top Physicians. 
Dr. Coleman's patients feel like they are people first because to her, honesty and communication are paramount. While utilizing the many technological advancements in medicine, Dr. Coleman also focuses on who the patient is to find the right treatment with respect, dignity, and compassion. 
Outside of the office, Dr. Coleman finds joy spending time with her son. She attends school events and volunteers in the community every chance she can, and is an avid Buckeye fan.
OFFICE HOURS
---
Monday
8:30am - 6:00pm
---
Tuesday
8:30am - 6:00pm
---
Wednesday
8:30am - 6:00pm
---
Thursday
8:30am - 6:00pm
---
Friday
8:30am - 12:30pm
---
Saturday
Closed